The Market on State
The Market on State is located at 1002 East State Street, Athens, OH. It is served by Athens Transit. The immediate locale is also shared by the Athena Grand movie theatre, various restaurants is also the current location of the Athens Farmers' Market on Wednesday and Saturday mornings, bringing a large influx of potential customers.
A Family Envioronment
The Market on State is proud to be concerned about family and the safety of children. Located at the western end of the mall, is a woodland themed children's play area created by the partnering of parents who formed the Appalachian Community Together (ACT) for Kids with the Southeastern Ohio Chapter-Autism Society of America (SEO-ASA).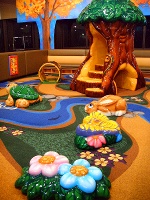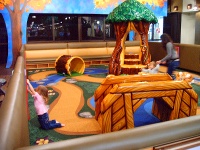 Children in the play area must be supervised at all times by a parent.
The Arts at The Market on State
The Market on State is proud to sponsor and promote the Arts by hosting a monthly Art contest for all local area schools.
In addition to encouraging the Arts in the local schools, The Market on State also supports the work of other local area artists.
The thumbnails below will take you to a page with more images of the featured artwork.
The image map below shows the spaces that are available for lease. Hovering over the white areas will list the size of the space in both square feet and dimensionally. Hovering the mouse over the green, occupied areas will display the name of the business.